Belvedere Lanes Initiative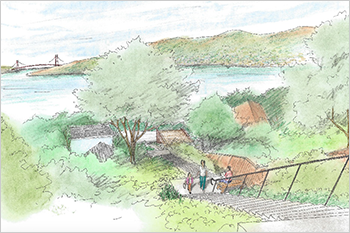 From Belvedere's inception in 1890, public pedestrian lanes have been part of the fabric of the island. As these historic photos demonstrate, the lanes have been well-used as shortcuts for getting to and from school or work, for exercise or dog-walking, and to provide entrances to the homes and private gardens built along them. During an emergency or natural disaster, they offer an important alternative to driving as a means of evacuation. Lanes also provide a means of access for first responders during a fire or other emergency. However, lane maintenance has often taken a back seat to other City priorities. As a result, many of our lanes suffer from the results of deferred maintenance, while others have disappeared altogether.
The Belvedere Community Foundation has been happy to contribute to lane maintenance over the last few years, providing funds for hand rail replacement and the broom pilot project. These projects, while important, were undertaken as the need arose without a long-term strategy for maintenance and restoration. Now BCF is proud to support the Belvedere Public-Lanes Initiative, a five-year plan to repair some lanes and restore others that have been lost. The City of Belvedere has committed significant funding for this initiative and, working through the Parks and Open Space Committee, is identifying which projects to tackle. The first is the restoration of Golden Gate Lane (formerly known as Eucalyptus Lane), which originates at the 300 block of Golden Gate Avenue and provides sweeping views of the Golden Gate Bridge as it drops to Belvedere Avenue below. Partial funding for this project comes from the Belvedere city budget, with the remainder being raised through private donations.
Once Golden Gate Lane is complete, what other lanes deserve attention? You can offer your thoughts to the Belvedere Parks and Open Space Committee by emailing Robert Zadnik, Belvedere Public Works Manager, at rzadnik@cityofbelvedere.org.
If you would like to donate to the Lanes Initiative, you may do so here. Designate the Belvedere Lanes Initiative as the recipient of your funds.
Photos courtesy of the Landmarks Society